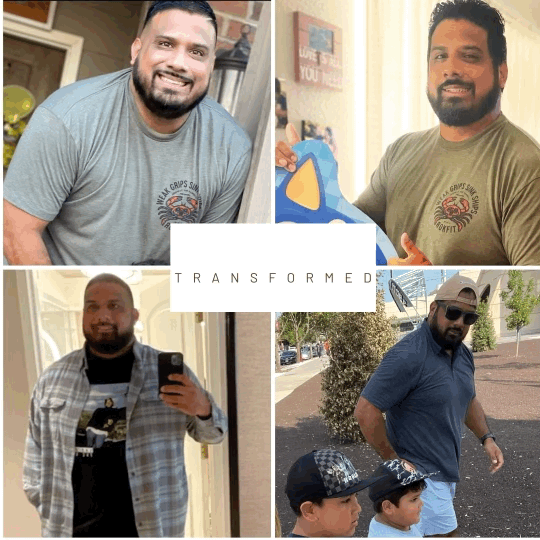 Marcus Castillo
Member Since March 2022
1. What motivated you to start your fitness journey at the Union?
I attended The Friday Night Lights Open 22.3 to watch my wife participate. I saw athletes with different experience levels having fun, but also getting uncomfortable and I remember how that felt, and hadn't experienced that in 9 years. My wife, Brian and Q told me to just hurry up and join and to get started with lifting again.
2. How did you feel physically and mentally before you joined the Union?
In my day to day, there wasn't a regimented plan to follow. I was not eating the necessary protein for a "diet" and as a result my body was suffering. Working out was non-existent. I was aging faster than I would like and my body was suffering. My mental capacity took a toll, and I was not sharp like I previously was in the military. It was truly a domino effect.
3. Can you describe the changes you have experienced in your overall well-being since joining the Union?
I am more confident in the clothing I wear in my work attire and even in the gym. This has been something I had to be comfortable with. The other day I wore a muscle shirt for the WOD (work out of the day) and there was nothing but positive vibes from the coaches. When I say these coaches care about you, they truly do. The details are important to them, and they take the time to acknowledge this.
4. What were some obstacles or challenges you faced along the way, and how did you overcome them?
"Gains are made in the kitchen" haha. As I've gotten older, I realize that my nutrition is equally important, if not above the strength training and WODs. My mentality in my younger days in the military I could eat whatever I wanted and get away with it and not work hard in the gym; this isn't the case any longer. I need to prioritize my meal prepping and make sure I am fueling my body with the nutrition it needs.
5. In what ways has the Union helped you achieve your fitness goals?
I attribute the nutrition coaching with Liz a considerable service the Union provides. Having the in the body scan done allows the athletes to see what's going on "under the hood" and know where you need to work. The accountability through active tracking and resources Liz provides as well is paramount in my life style change. Her support and feedback is instrumental in my growth.
6. What specific transformations have you noticed in your body, health, or performance since becoming a member?
I've noticed muscle growth since starting to do X-Fit on a regular basis. My body has started changing over time. All my personal health goals, I'm meeting and that hasn't been something reached in a very long time. I'm grasping the performance part and learning to better pace myself.
7. Is there a particular accomplishment or milestone that you are most proud of in your fitness journey?
Staying consistent and mentally acknowledging that this isn't too hard to do. I love to workout and get it done! It helps me feel good and positive afterwards. Although, It's not always going to be the results you want, whether it's a missed lift or not completing a workout before the time cap. It's easy to give up, which I've done in the 9 years previous to this. Now, I keep a positive mindset and THIS is what I'm most proud of. Being ok with failing, and having a strong mindset to rebound quickly.
8. How has being a part of the Union positively impacted your life outside of fitness?
I realize that no one is perfect, and we each have our own battles we face every single day. I know that if I give my absolute best in my fitness, I can do the same for my family. My wife and sons benefit the most from this. I'm able to do the little things in life I used to struggle with with ease. My health is wealth.
9. What aspects of the Union's fitness programs and facilities do you find most beneficial and enjoyable?
The in body scan and The Level Method program the gym follows. This allows any athlete at various strength and output levels to work and level up. This program has been beneficial for me, it keeps me level and shines a light on my weaknesses. This program allows you to start out on the map at an entry level and progress as your fitness level allows over time.
10. If you were to recommend the Union Fitness and Fun to someone else, what would you say are the main reasons for joining?
If you want to have fun, while being safe and in a welcoming environment and grow at your desired pace, this is the place to be. The encouragement and energy levels are contagious and the workouts are tailored based on your individual fitness level. Six months from now, you'll thank yourself for getting uncomfortable. Just. Get. Started!